Bringing Cannabis into the Metaverse and onto the Blockchain
Entrepreneurs are bringing cannabis into the metaverse and onto the blockchain. Mitch Ngo, CEO and Co-Founder of Golden Ark, is one of these people. His company is developing a supply chain model that uses blockchain technology to source and tracks cannabis products. As well, they're building a metaverse for cannabis connoisseurs. "The goal is to build a cannabis community," says Mitch
"You go to WeedMaps; you type in your location, you get a link to the dispensary's website, that's about it. We want to take that to a totally different level where you actually jump in. We have a brand that has an actual lounge, a metaverse lounge. You can walk in, and you can shop, you can actually look at a product, you can look at it if it's blockchain or not, you can tell where it's been, where's it grown. We can control that part of it. The consumer can go into the lounge and talk to each other and say, 'how's the product, etc. Etc.' So you can vet it from there. There's a lot of layers to it."
What is the Blockchain?
Mitch Ngo's inspiration comes from personal history. When his Dad was diagnosed with an aggressive form of cancer, Mitch provided him cannabis edibles to ease the pain. But he was concerned about the source and safety of the edibles he was giving his sick father. That's when he started thinking about using blockchain to manage the supply chain.
Basically, a blockchain is a secure peer-to-peer accounting ledger—private and anonymous but also pubic and open. Tracking the movement of cannabis and its derivatives throughout the economy is a momentous task. A blockchain system has built-in redundancy, increases system reliability, and requires little human input and, therefore, little risk of human error.
Bringing cannabis into the metaverse and onto the blockchain means assigning various digitally unique tokens. The blockchain would have individualized tokens for all the seeds, plants, waste, labour, processing, and nearly every step of the process to the individual sales of the retail products.
"What we're doing on our side is that we're trying to blockchain from seed to sale, and we're trying to get the genetics within the blockchain as well. So that if you claim that you're selling Blue Dream, then we should be able to identify it and let you know if you're really smoking Blue Dream," says Mitch.
"And none of the stuff we're doing technology-wise is brand-new. We're just trying to piece it all together, so it works together."
What is the Metaverse?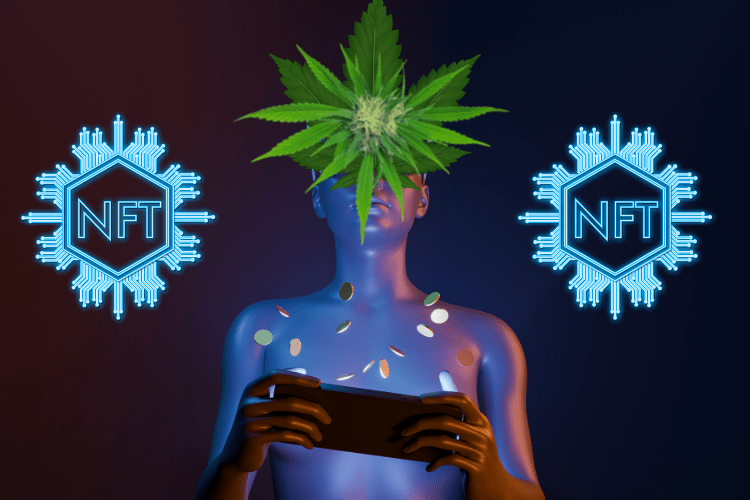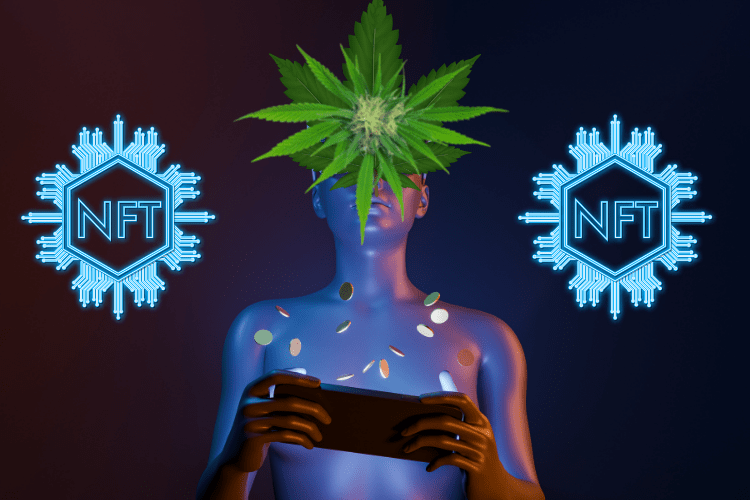 When most people think of the metaverse, they probably think of Facebook. But that's not the case.
"The Facebook Metaverse is a VR metaverse," says Mitch, "They want you to be submerged like the Matrix. Like you're in virtual reality, and you really don't need to move. You can sit on your couch all day and have your goggles on, and it's just like real life. With ours, it's like Fortnite. Or Grand Theft Auto. You're just playing a video game. When you hear metaverse… it's this metaverse that we're talking about. Like a video game."
"For ours, we have a really cool metaverse where you actually get a lounge… Places where you can hang out, you could hang out with your friends, and so it would be like if you smoke weed and I smoke weed, and I'm like 'hey, what are you doing on Friday?' and you're like 'nothing, let's go hang out.' So we're both in my lounge, and I'm like 'let's play poker,' and then we both jump on my poker table, maybe our webcams are on, we're smoking up."
"The main thing about the lounges is that you and I are playing poker, and then we could actually play for crypto. So if we get a good game of seven or nine of us, then it's a fun Friday night. We're all in our houses, we're all smoking up, we're all talking about weed, we're all having fun, we're listening to music, I mean, we're just trying to make it simple and fun, and when we talk about community, everyone needs their own community. And in turn, we need to build a huge community so that it just normalizes it."
Bringing Cannabis into the Metaverse and onto the Blockchain
Mitch's company has developed a technology called Arkthenticate, which provides a way of authenticating cannabis products. The idea is that on cannabis packaging, they will be a QR code which the user scans into their phone. The code takes them to the Arkthenticate website, where they can see the history of the product and source its origins. 
Additionally, if you're the first buyer of the product, you may receive an NFT. (An NFT is a non-fungible token, a kind of financial security of digital data stored on a blockchain.)
"We've already tested our Arkthenticate technology to ensure that the QR code system is working. And that does work. We've enabled it so consumers can scan a QR code, log into the Arkthenticate site, enter their wallet address and then claim the NFT for the product. So far, it's going pretty good."
What The Future Holds for Bringing Cannabis into the Metaverse and onto the Blockchain
Mitch Ngo isn't the only one bringing cannabis into the metaverse and onto the blockchain. Many cannabis entrepreneurs are discovering the freedom of the metaverse. Big internet companies like Facebook and Google ban cannabis advertising and promotions. Facebook's Meta community standards prohibit content that "attempts to buy, sell, trade, donate or gift or asks for marijuana."
But the metaverse of Golden Ark is free and decentralized. And it's only getting started. Whether building a community or collecting NFTs, there's something for everyone.